Podcast: Play in new window
Listen and download the Main Street Vegan Podcast on Unity Online Radio, or listen and subscribe on Stitcher or  Apple Podcasts.
It's very possible, say today's guests, all who have terrific new books on how to accomplish this amazing feat: Chef Mark Reinfeld and his wife Ashley Boudet, ND, authors of The Ultimate Age-Defying Plan; and journalist and champion race walker Karen Asp, whose delightful and practical new book is Anti-Aging Hacks.
Chef Mark Reinfeld and Ashley Boudet, ND join us to discuss their new book, The Ultimate Age-Defying Plan – The Plant-Based Way to Stay Mentally Sharp and Physically Fit. In it they share their NOURISH plan for Optimal Health and Wellness. They will also discuss the topic of food activism and the importance of educating others on the plant-based lifestyle.
Website: doctorandchef.com
Facebook: facebook.com/TheDoctorTheChef
Twitter: @veganfusion
Instagram: @veganfusion
YouTube: Doctor & Chef
Karen Asp is an award-winning journalist and author who specializes in fitness, health, nutrition, pets and travel. A former contributing editor for Woman's Day and fitness columnist for Allure, she writes regularly for numerous publications, including Better Homes and Gardens, O, Women's Health, Forks Over Knives, VegNews, Harper's Bazaar, Real Simple, Reader's Digest, Prevention and SELF and recently published her second book, Anti-Aging Hacks. She's also a certified fitness professional who holds a plant-based nutrition certification, world record holder in Nordic walking, vegan mentor for PETA, and Switch4Good teammate.
Website: karenasp.com
Facebook: facebook.com/karen.asp.1 and facebook.com/karenaspauthor.
Twitter: @karenaspwriter
Instagram: @karenaspwriter
Blast from the past! ~ As I'm learning myself with a new documentary about to debut, films can take awhile, and when they're ready, OMG, it's like giving birth. Back in August of 2017, the show opened with a chat with Jasmine Levya, director of The Invisible Vegan, an important film featuring Milton Mills, MD, John Salley, Cedric the Entertainer, Tracye McQuirter, MPH, and looking at health concerns in the African-American community and plant-based solutions. You can rent or purchase the film on Vimeo, or if you or someone you know does not have the means to pay, The Invisible Vegan is also on YouTube in pieces so the information is available for everyone.

A shoutout to our sponsor, Complement. Developed by vegan dietitian Dr. Pamela Fergusson, and the NoMeat Athlete, Matt Frazier, Complement enables you to get your vitamin B12, vitamin D3, and the essential Omega 3 fatty acids (DHA & EPA) in a totally vegan form that you just spray into your mouth once a day and know that your already great diet now has the full complement of essential nutrients. Click here for more info and to order. Use the code MAINSTREETVEGAN+ for a 10% discount.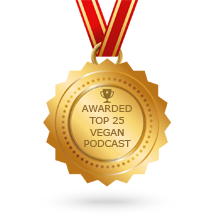 Main Street Vegan Podcast wins Top 25 Vegan Podcasts on the web award. Click here to learn more.